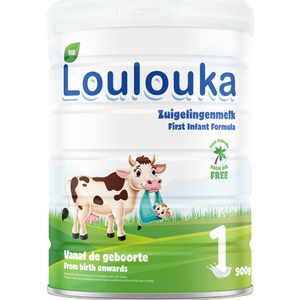 From birth to 6 months
Each can is 900g (31.75oz)
Contains coconut oil
Contains DHA and ALA (Omega 3/6 fatty acids)
EU organic certified
Made in Switzerland
Loulouka Organic Infant Formula stage 1 is ideal for supplementing with breast milk or for exclusive bottle-feeding. A balanced and nutritious baby food that is suitable from birth. Formulated with the best organic Swiss cow's milk and contains important ingredients for your baby's development. It is formulated with all the required minerals and vitamins for your baby to grow strong and healthy, such as iron, Vitamin A, C, and D. Vitamin D is essential for calcium absorption and bone growth. After the 6th month, it is recommended advance to Loulouka Follow-on Formula Stage 2.
Loulouka is a new brand for baby food, based in the Netherlands. Their milk formulas are produced in Switzerland, the home of the best cow farms in the world.The high-quality products from Loulouka have been developed by a team with over a decade of experience in the baby food industry and offer the best nutrition for your baby.From birth, babies need specific vitamins, fats and minerals.That is why LouLouka has taken the time to ensure that they use the best ingredients in all of their products. They have taken an important step and replaced palm oil with coconut oil for a better absorption of these important ingredients.Research has proven that coconut oil supports proper growth and development in babies. Loulouka's production facility is fully certified to meet the strict organic standards that ensure the milk, cows and the environment are all respected throughout the entire production process. The Swiss organic farms have a sustainable farming approach without the use of artificial pesticides or herbicides.
No GMO
Contains Lactose and sunflower lecithin
Does not contain soy or palm oil
No added sweeteners, colors, or preservatives
Not suitable for vegetarians
Skim milk*, demineralized whey powder*, vegetable oils* (coconut oil, rapeseed oil, sunflower oil), lactose*, whey protein concentrate*, minerals (calcium carbonate, calcium phosphate, copper sulfate, iron sulfate, magnesium chloride, manganese sulfate, potassium bicarbonate, potassium iodate, sodium chloride, sodium citrate, sodium selenate, zinc sulphate), emulsifier (sunflower lecithin*), vitamins (A, B1, B2, B3, B5, B6, biotin, folic acid, B12, C, D, E, K), choline, inositol, antioxidant (mixed tocopherols).
* Raw material from controlled organic production (EU Certified Bio)
For allergens see ingredients highlighted in bold.
Wash hands and sterilize all equipment following the manufactures instructions.
Boil fresh drinking water and leave to cool for no longer than 30 minutes to approx. 40-50°C. Fill half of the water into the bottle (for exact amount se measuring table below).
With the scoop provided, add the correct number of scoops of powder - 1 level scoop of powder to each fluid ounce of water. Close the bottle and shake well.
Add the remaining water and shake it again until all the powder is dissolved. Let it cool to drinking temperature (approx. 37°C). Always test the temperature of the milk before feeding.
Age of baby

Amount of cooled boiled water

(ml-oz)

Number of leveled scoops of powder

Number of prepared product

(ml-oz)

Number of bottles per day

0-1 week

Follow your doctor's advice.

1-4 weeks

90ml or 3oz

3

100ml or 3.4oz

6-7

4-8 weeks

120ml or 4oz

4

135ml or 4.6oz

5-6

2-3 months

150ml or 5oz

5

165ml or 5.6oz

5-6

3-5 months

180ml or 6oz

6

200ml or 6.8oz

4-5

5-6 months

210ml or 7oz

7

230ml or 7.8oz

4-5
*1 measuring scoop = 4.3g
The quantities of daily feeding are shown for guidance only. Minor deviations are perfectly safe.
Expiration date is indicated on each box and sealed bag in European format (DD/MM/YYYY)
Keep away from heat and humidity
Store in a cool dry place- do not refrigerator
Once formula bag is open, use within 3 weeks
Always prepare fresh food for your baby. Do not use leftovers
To avoid the danger of overheating, do not heat your baby's milk in the microwave