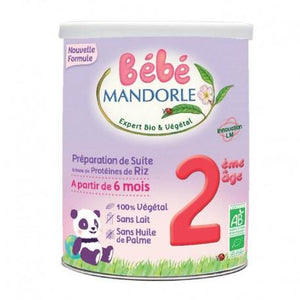 Bébé Mandorle Follow on Formula Stage 2 is suitable from 6 months onwards as part of a mixed diet. This milk-free formula is the optimal alternative to your baby's milk intolerance or allergy. It is vegetable based and contains proteins from rice called hydrolysate. Developed in accordance with the latest studies in the infantile nutrition, making sure it contains the appropriate minerals and vitamins to meet the nutritional needs of your child's development.
For over 25 years La Mandorle has been the specialist in cow milk alternative formula, vegetal milk and gluten free drinks. Bébé Mandorle was developed after years of research with the support from the Ministry of Research and child nutrition specialists. Bébé Mandorle is an innovative line of infant formula that offers both organic and vegetable based options for babies suffering from lactose intolerance or a cow milk protein allergy. Their wide range of products includes formula that is free of milk, gluten, soy, and palm oil for infants from birth to 3 years old. It is considered to be the global answer for children with dairy allergies. In 2013, Bebe Mandorle formula received an award for Innovation at the NatExpo fair trade in Paris and the formula was mentioned in the French Medical Dictionary. As one of the first companies to develop a partial hydrolysate rice protein formula that is 100% organic. The protein from the rice is naturally obtained through a mild enzyme process and is now considered the new advanced alternative to cow milk. This nutritionally complete dairy free formula was created with the appropriate amount of protein and calcium to avoid dietary deficiencies.
Free from milk, palm oil, soy, and aroma
No added sugar, egg, wheat, fluoride or preservatives
Gluten free
No peanuts or trans fatty acids
No steroids, hormones, antibiotics, or GMO ingredients
Certified Organic Farming
Corn maltodextrin*, vegetal oils* (coco*, almond*(2), colza*), rice* protein hydrolysed 16,5%, corn-starch*, minerals (calcium phosphate, calcium carbonate, potassium phosphate, potassium chloride, sodium chloride, magnesium phosphate, zinc oxide, copper sulphate, iron sulphate, potassium iodide, sodium selenite), stabilizer: guar*, vitamins (C, PP, B5, E, B2, A, b1, b6, b9, K, B8, D, B12), L-Lysine, L-Tryptophan.

*From organic farming.
(2) Our almond oil is pure, from cold-extraction and without traces of protein residues
Wash hands and sterilize all equipment following the manufactures instructions.
Boil fresh drinking water and cool to approx. 40°-50°C.
With the scoop provided, add the indicated amount of formula to the corresponding amount of water (refer to the feeding guide).
Close the bottle and shake well until all the powder has dissolved (approx. 15 seconds).
Cool prepared formula to a serving temperature of approximately 98.6°F (37°C). Always test the temperature of the milk before feeding.
Age (in months)

6-8

8-12

Bottle preparation

Water (ml-oz)

210ml - 7.10 oz

240ml - 8.11oz

Scoops of formula

7

8

Number of bottles per 24 hours

3

2
The quantities of daily feeding are shown for guidance only. Minor deviations are perfectly safe.
Expiration date is indicated on each can and sealed bag in European format (DD/MM/YYYY)
Keep away from heat and humidity
Store in a cool dry place- do not refrigerator
Prepared formula should be consumed immediately
Discards any leftovers at the end of the feed
Always prepare fresh food for your baby. Do not use leftovers
To avoid the danger of overheating, do not heat your baby's milk in the microwave