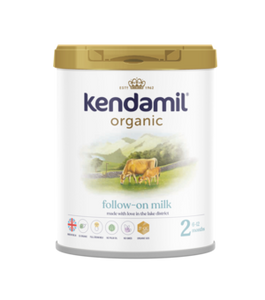 Kendamil Organic Follow-on Milk stage 2 is suitable for babies from -12 months. Stage 2 is a scientifically developed formula using organic full cream from local British farms. A whole milk recipe provides a more natural fat source for your baby and helps reduce the amount of vegetable oils in the formula. In addition, it helps provide a natural source of milk fat globule membrane, as seen in breastmilk and shown to improve infants' cognitive development. The follow-on milk stage 2 is a nutritionally complete, veggie-friendly formula that can be used to exclusively bottle feed or supplement with breastmilk.
Kendamil is the only British made formula and has devoted 58 years to developing the most uncompromising, nutritionally advanced formula for your baby's growth and development.Their team of scientist have dedicated their lives to studying early life nutrition and have created a formula with only one thing in mind- your little one. Their innovative approach to formula production is also mindful of the environment. To reduce the carbon footprint they utilize renewable energy, recyclable materials, and reduce emission. The use of plant based DHA helps safeguard the oceans, preserves fish stocks, and avoids fish allergens. Their ingredients and fresh milk are sourced locally in the UK because Kendamil believes in supporting local famers and farms. Kendamil milk comes from Red Tractor certified cows, which ensures the highest quality standards in the UK. Local supply chains not only means sustainability but it also means traceability, which allows Kendamil to know every step of the process, from farm to formula.
Organic whole milk, Organic skimmed milk, Organic lactose (from milk), Organic demineralized milk whey protein powder, Organic vegetable oils (sunflower, coconut, rapeseed), Organic galacto-oligosaccharides (from milk), Calcium citrate, Sodium citrate, Magnesium chloride, Docosahexaenoic acid, Potassium chloride, Vitamin C, Potassium hydroxide, Iron pyrophosphate, Zinc sulphate, Vitamin E, Niacin, Pantothenic acid, Copper sulphate, Thiamin, Vitamin A, Vitamin B6, Riboflavin, Folic acid, Manganese sulphate, Potassium iodide, Sodium selenite, Vitamin K, Vitamin D, Biotin, Vitamin B12.
For allergens, see ingredients in bold.
Bring fresh drinking water to a boil and cool to approx. 40°-50°C
Add 2/3 of the provided water to the bottle
Fill the measuring scoop loosely and level off the remaining powder with the back of a knife. Add recommended amount of powder to the bottle.
Close the bottle and shake vigorously.
Add the remaining water to the bottle and shake vigorously again.
Cool to serving temperature approximately 37°C. Check temperature before serving the feed.
Feeding chart

Age

Quantity of water (ml - oz)

Measuring spoons*

Prepared product (ml - oz)

Bottles per day

1-2 Weeks

60ml or 2oz

2

70ml or 2.4oz

5-7

3-4 Weeks

90ml or 3oz

3

100ml or 3.4oz

5-7

5-6 Weeks

120ml or 4oz

4

135ml or 4.5oz

5-6

7-8 Weeks

150ml or 5oz

5

170ml or 5.7oz

5

3-4 Months

180ml or 6oz

6

200ml or 6.7oz

5

5-6 Months*

210ml or 7oz

7

235ml or 8oz

5
*1 measuring spoon = 4.3g
**After the 6th month, consult with your baby's pediatrician for a feeding regimen.
The quantities of daily feeding are shown for guidance only. Minor deviations are perfectly safe.
Care Instructions:
Expiration date is indicated on each can in European format (DD/MM/YYYY)
Keep away from heat and humidity
Discard mixed unconsumed formula after 1 hour
Once the can is open, use in the next 2-3 weeks.
Formula is best when stored in special plastic or glass containers
Always prepare fresh food for your baby. Do not use leftovers.
To avoid the danger of overheating, do not heat your baby's milk in the microwave.